Anticipating the future collaboratively
Anticipating the future collaboratively
On April 25th Ethical Metalsmiths is hosting its first ever Futuring Committee meeting. Please take a moment to meet the preliminary members.
Much has changed since 2004 when Ethical Metalsmiths co-founders Susan Kingsley and Christina Miller took on the challenge of sharing information about the sourcing of metals used in jewelry with fellow metalsmiths. Today, awareness of irresponsible mining and of the benefits a transparent and traceable supply chain can bring to people and the environment has increased, especially among jewelers. As a result EM must reevaluate its programs and purpose to make sure that our work is effective and guided by a long-term strategic plan reflective of real-time needs. To do this we are enlisting the support of a Futuring Comittee made up of professional advisers from diverse backgrounds who will generously volunteer their time, passion and expertise with us.
Ethical Metalsmiths is looking for additional Futuring Committee volunteers with experience in environmental policy and advocacy, non-profit management and development, marketing and public relations as well as professional jewelers with interest in ethical practices and social entrepreneurs. If you have expertise in these areas or know someone that you'd like to recommend, please contact us at: mail@ethicalmetalsmiths.org The committee can grow to include nine to eleven members.

We are deeply honored to introduce you to the initial members of Ethical Metalsmiths Futuring Committee. Keep reading to find out why they are committed to EM.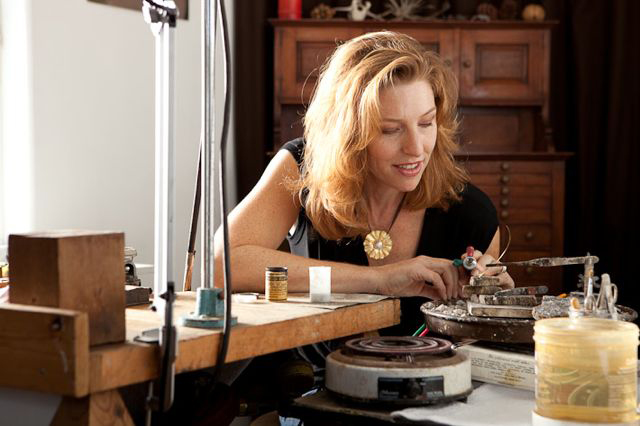 Alexandra Hart - San Diego, California

"I very much wish to support the mission of Ethical Metalsmiths. I believe both designers and end consumers are responsible for socially and environmentally sustainable practices. As a designer sourcing and working with rare materials, the choices I make affect the trade and the future of these resources."

Alexandra Hart is an art-jewelry designer, goldsmith and sculptor. Since starting her business in 1995, she has used and promoted ethically and sustainably sourced materials. 100% of the precious metals she uses are recycled. Alexandra purchase diamonds from only two sources, both of whom provide the UN conflict free guarantee on their invoices. Since 2006 she only purchases colored gemstones from Columbia Gem House and her local dealer who is directly familiar with the supply chain. Alexandra conscientiously practices studio procedures which reduce impact on the environment.

Alexandra has extensive leadership and Board experience in the metalsmithing and jewelry industry through The Women's Jewelry Association (WJA) . She is a founding member of a local chapter of Amnesty International, and remains actively involved in it. She mentors young professionals, and materially supports various organizations pursuing social justice. Learn more at http://alexandrahart.com/
Kevin Murray - Melbourne, Australia

"I'm keen to be part of discussions about how the mission of Ethical Metalsmiths might critically engage with both the contemporary jewellery field and broader field of ethical design."
Dr Kevin Murray is Adjunct Professor RMIT University and visiting Professor at Australian Catholic University. His PhD was in the area of narrative psychology. In 2000-2007 he was Director of Craft Victoria where he developed the Scarf Festival and the South Project. He has curated many exhibitions, including 'Signs of Change: Jewellery Designed for a Better World'; 'The World of Small Things'; 'Symmetry: Crafts Meet Kindred Trades and Professions'; 'Water Medicine: Precious Works for an Arid Continent'. His books include Craft Unbound: Make the Common Precious (Thames & Hudson, 2005). He is currently a Vice-President of the World Craft Council Asia Pacific Region, online editor for the Journal of Modern Craft and coordinator of Southern Perspectives, a south-south intellectual network. He is coordinator of Sangam: the Australia India Design Platform as part of the Ethical Design Laboratory at RMIT Centre for Design. More information is at www.kevinmurray.com.au.


Michelle Pajak-Reynolds - Stow, Ohio

"My desire in supporting Ethical Metalsmiths as a member of the Futuring Committee is to use my business skills to help EM navigate the unique business challenges of today's economy so the organization can grow and expand the community of socially and environmentally responsible jewelers and jewelry customers."

For over a decade, Michelle Pajak-Reynolds has been internationally recognized for her jewelry collections. Her one-of-a-kind pieces have been featured on the runway at NY Fashion Week along with numerous exhibitions, publications and red carpet events. She's dressed celebrities from NY to LA including Sophia Bush (Brooke Davis in One Tree Hill), Nona Gaye (Zee in The Matrix movies), Lisa Ryan (Gratitude Expert in The Keeper of the Keys), and Jillian Barberie (FOX NFL Sunday). Michelle is also passionate about entrepreneurship. As the Founder & Chief Consultant at "eMERGE: A Business Blog for Creative People" on Crafthaus, she provides business solutions for artist entrepreneurs and arts organizations so they can thrive in the marketplace. Michelle earned her BFA in Jewelry & Metals from Kent State University and an MBA in Entrepreneurship from Baldwin-Wallace College. Visit her website at http://www.michellepajak.com/

Written by Susan Kingsley for the Futuring Committee informational packet are these bold words, "It is time to postpone professional posturing, become deeply knowledgeable about materials and sourcing, increase dialogue with people in other disciplines and move beyond the "used to be." If we are to have a future as a species on this planet, with clean air and water, healthy people, sustainable communities, indigenous rights, equitable distribution of prosperity, nature reserves, abundant wildlife and fish —and jewelry - it is a future we must create."